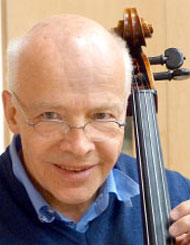 Artistic Director
Cellist and Conductor
Albert Roman, who grew up in a music-loving family in St. Moritz, was fascinated by the cello early on, which was to decisively influence his entire life. His teachers were Paul Szabo, André Navarra, Pierre Fournier, and Mstislav Rostropovich. His international concert and teaching activity began with two prizes at international music competitions and led him to Europe, Asia, and the United States. His repertoire as a soloist includes more than 100 works from the Baroque to the 21st century. Thus, he premiered numerous works, some of which were dedicated to him. Albert Roman also champions contemporary music with introductory concerts and has performed with Pierre Boulez as a conductor. Among Albert Roman's recordings, the following deserve to be specially mentioned: Rudolf Moser's Cello Concerto No. 2 with the English Chamber Orchestra; Miniatures, a recording of a duo with Italian pianist Bruno Canino; and J S  Bach's six solo Cello Suites.
A particular concern of his is a creative exchange as part of musical education and training. That is why Albert Roman regularly teaches students, heads workshops and, every summer, conducts a workshop for cello ensemble in St. Moritz. Albert Roman is the Artistic Director of Chesa da Cultura and Conductor of the Swiss China Cello Orchestra. He was honoured with the 1999 Friendship Award of the People's Republic of China for his promotion of young Chinese musicians. Albert Roman lives in Basel and St Moritz.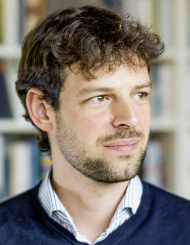 Member of the Board
Andreas Graf, born in Basel, Switzerland, comes from a family of musicians and physicians. He studied music in Bern, Berlin, and Frankfurt am Main (graduating with a soloist's diploma). The city of Thun, Switzerland, awarded him the Kulturförderpreis, its award for the promotion of culture. He was significantly inspired by, a.o., Peter Hörr, Michael Sanderling, Janos Starker, Ralph Kirshbaum, Wolfgang Boettcher, and Gustav Rivinius. Since 2007, he has also been a member of the Bern Symphony Orchestra. In addition to his numerous chamber-music activities, he also performs as a soloist.
Andreas Graf also studied Business Administration and Media Sciences at the University of Bern (graduating with a lic. rer.pol. degree). As a filmmaker and director, he moreover runs Epic Lab, a film-production and film-music agency. Several of his short films were shown at international film festivals. His comedy The Laws of Attraction (2015) got, among others, the Silver Award at the California Film Awards.
Pierre Boulez
(1925 – 2016)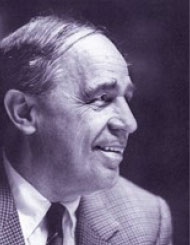 Honorary President in memoriam
Composer and Conductor
Pierre Boulez, who was born in Montbrison (Département Loire) in 1925, initially studied mathematics before deciding, at the age of 17, to devote himself entirely to music. After studying with Olivier Messiaen and René Leibowitz, who acquainted him with Schoenberg's twelve-tone technique, he introduced himself as a composer with Douze Notations (1945) and two piano sonatas (1946 and 1948) establishing his worldwide reputation above all with the world premiere in Baden-Baden of his chamber cantata Le Marteau sans Maître (1955). In the following years, his career as a conductor took up more and more of his time, culminating in his performances of Parsifal (1966–70) and the Ring (1976–80) at Bayreuth and his appointment as musical director of the BBC Symphony Orchestra (1960–72) and the New York Philharmonic (1971–75). From 1976 till 1991, he then served as director of IRCAM, the research institute for contemporary music that he founded at the Pompidou Centre and of the Ensemble Intercontemporain in Paris. As part of this work, he developed a new compositional style based on advanced technologies; examples of this can be found in Répons or Dialogue de l'Ombre double.
Since the beginning of the 1990s, Pierre Boulez began to turn his attention once again to conducting, leading such orchestras as the Chicago Symphony Orchestra, the Cleveland Orchestra, the Berlin and Vienna Philharmonics, and the Staatskapelle Berlin. In the summers of 2004 and 2005, he again conducted Parsifal at the Bayreuth Festival and, in 2007, Janáček's From the House of the Dead at the Vienna Festival.
In 2003, he founded the LUCERNE FESTIVAL ACADEMY. Pierre Boulez is the recipient of the Siemens Music Award, the Praemium Imperiale, the Theodor W. Adorno Award, the Kyoto Award, and the Adenauer de Gaulle Award.
From 1999 till 2016, Pierre Boulez was Honorary President of the Pro Musica e Cultura Foundation.