Archive

of Activities at Chesa da Cultura
This archive presents a retrospective of events with renowned artists and ensembles as well as the the concert we gave in honour of Marguerite Staehelin with our Honorary President Pierre Boulez.
Konzerte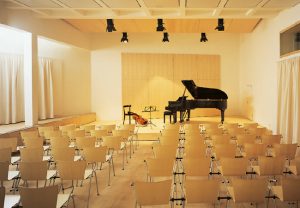 The Chesa da Cultura has already hosted numerous master classes, workshops, and concerts with artists such as Sofia Gubaidulina, Oscar Ghiglia, Klaus Huber, Gary Karr, Rudolf Kelterborn, Miklós Perényi, Maurice Steger, Wolfgang Rihm, Hopkinson Smith, and others.
Concert with
Albert Roman & Friends
Saturday, 9th March 2019, 20.30 o'clock
Chesa da Cultura
St. Moritz, Via Dimlej 44, 20.30 o'clock

Piano Concert
Piano Concert with students of Prof. Michael Schneidt
Friday, 9th August 2019, 17 o'clock
Chesa da Cultura
Via Dimlej 44, St. Moritz
Final Concert St. Moritz
Management: Helene and Sebastian Roth
Friday, 11th October 2019, 17 o'clock
Chesa da Cultura
Via Dimlej 44, St. Moritz
Concert
The Basel Cello Orchestra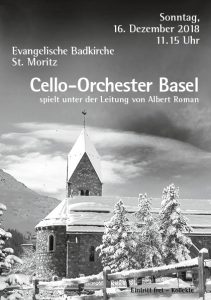 Sunday, 16th December 2018, 20.00 o'clock                                                                                                                                                                                         Evangelische Badkirche St. Moritz
Concert
The Basel Cello Orchestra
Sunday, 23rd December 2018, 20.00 o'clock                                                  Klosterkirche Dornach
Opening and Final Concert                     with Helmut Lachenmann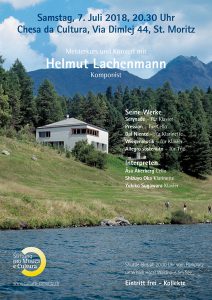 Programme Opening Concert (PDF)
7 Concerts in 7 Churches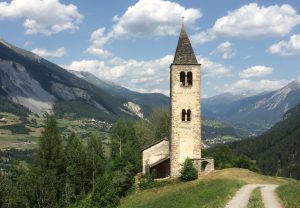 September 27th – October 1st, 2017
7 churches – each a jewel from a different era – line the former pilgrims' path in the impressive natural landscape between Savognin and Mon. At each of them, the participants listened to an exquisite concert and reflections on the art history of the respective church.
Albert Roman and Simone Vebber performed works from the most varied musical eras: the Six Suites for Cello Solo by J S Bach, plus organ works by C Ph E Bach and G Frescobaldi. Art historian Dr. phil. Marc A. Nay gave an introduction to the frescoes, pictures, architecture, and history of the respective churches.
The participants were accommodated in Salouf and enjoyed local dishes each day. From here the group walked each day to the churches along the former pilgrims' high trail.
Albert Roman and the Basel Cello Orchestra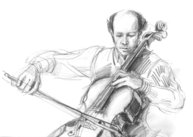 The young and highly motivated musicians of the Basel Cello Orchestra, directed by their conductor and teacher, cellist Albert Roman, originally hailing from the Engadine, set to work. The string virtuosos from the region of Basel and its surroundings aged 10 to 20 are still at school, but ever since the autumn of 2014, Albert Roman has been rehearsing with the orchestra every week to be able to present a musically varied programme to the Engadine and Basel audiences. Nine composers were brought to attention: Bach and Handel, the Baroque masters, classics Schubert and Mozart, romantics Brahms, Goltermann, and Laboccetta – and with Julius Klengel and Argentine Astor Piazzolla, the 20th century was represented as well.
There were two concerts:
St. Moritz: Sunday, December 4th, 2016, 5 p.m. – at the Evangelical Badkirche in St. Moritz, and
Arlesheim: Sunday, December 18th, 2016, 5 p.m. – at the Arlesheim Cathedral
Download the programme of the St. Moritz concert here.
Chr. Morgenstern – Poetry and Music in Conversation
Christian Morgenstern's highly versatile lyric poetry is aptly expressed in his work. The poems presented – which ranged from poetical and light-hearted or witty and grotesque to deeply philosophical ones – were accompanied by the appropriate music.
14 different composers were presented: Johann Sebastian Bach, Claudio Gregorat, Sofia Gubaidulina, Hans Werner Henze, Paul Hindemith, Arthur Honegger, Jacques Ibert, György Kurták, Witold Lutoslawski, Tilo Medek, Laurant Mettraux, Peter Mieg, Jacques Wildberger, and an improvisation.
Albert Roman played a cello piece for each poem, while Mirjam Hege recited early, biographical, and humoristic poems, plus Morgenstern's late lyric work. The dialogue between the poetry of Christian Morgenstern and the music of the 20th century deeply enriched this experience of the two arts.
The concert took place at Chesa da Cultura, Via Dimlej 44, St. Moritz on Saturday, July 4th, 2015, 8:30 p.m.
Download the poster here.
Russian Night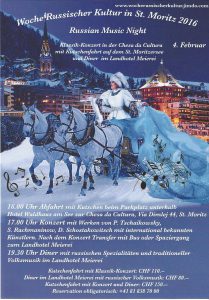 Internationally known artists Sandro Tigishvili (Violin I); Stefan Buga (Violin II); Vera Korolyova (Viola I); Aurélie Bernet (Viola II); Albert Roman (Cello I); Fernando Caida Greco (Cello II) performed works by:
S. Rachmaninow – Vocalise op. 34, N0. 14
D. Shostakovich – Waltz No. 2 from the "Jazz" suite
P. I. Tchaikovsky – "Souvenir of Florence" op. 70 in D minor
The concert took place at Chesa da Cultura on February 4th, 2016, at 5 p.m. Concert-goers were driven to the concert in horse sleds.
Download the programme here.
A Crane Flies Eastwards…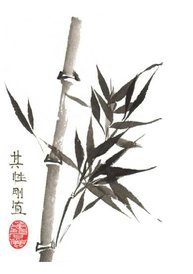 Chinese poetry from ancient and modern times accompanied by music
"Talks with the Angel" by Claudio Gregorat.
Lao-Tze's Tao Te Ching says: "The hard and big is at the bottom, the flexible, soft, tiny, and fine at the top…" These classical Chinese lyrics are both fine and tender, ad the texts speak of melancholy and mysterious animals. The seasons are symbolized by delicate white plum blossoms, golden orchids, chrysanthemums, and bamboo for hope.
Two short folk tales rounded off the programme. Some of the poems were also recited in the Chinese original. Music from Colloqui con l'Angelo [Talks with the Angel] for solo cello by Claudio Gregorat complemented the poetry.
Download the programme here.
Albert Roman & Friends 2014
Musician friends of ALBERT ROMAN's have gathered at Chesa da Cultura on Lake St. Moritz to rehearse one of the most beautiful chamber-music works by Franz Schubert, the String Quartet in C Major, and perform it at the Chesa da Cultura music hall on Thursday, January 9th, 2014, at 8:30 p.m.
Free admission – collection for the artists.
Download the report by the Engadiner Post here.
Download "Programmes & Artists" here.
Download the poster here.
Engadine Composer Ursina Braun premieres Vereinsamt

On April 1st, the premiere of Vereinsamt [Lone] by Engadine composer Ursina Braun took place at Chesa da Cultura on Lake St. Moritz. The programme began with famous Divertimento No. 4 by Wolfgang Amadeus Mozart as a trio for clarinet, viola, and cello, followed by 5 Pieces in Folk Style, Op. 102 for cello and piano by Robert Schumann. With these mood pieces so rich in contrast, the audience was offered unforgettable moments of the emotionally intense German Romanticism. The highlight and heart of the concert was the chamber music of talented young Engadine composer Ursina Braun. She set the poem Vereinsamt [Lone] by Friedrich Nietzsche to music. After the break, this was followed by the well-known Kegelstatt Trio in E flat Major by W. A. Mozart for clarinet, viola, and piano. The fascinating classical chamber music concert was thereupon rounded off with Miniatures Op. 18 by Engadine composer Paul Juon.
Albert Roman & Friends 2012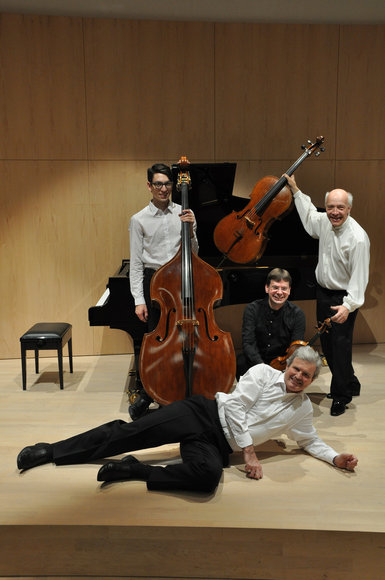 On Sunday, January 8th, 2012, the by now traditional New Year's Concert took place at Chesa da Cultura on Lake St. Moritz with Albert Roman and his musician friends. A varied and interesting programme offered the Piano Trio in C Major or Ghost Trio by Ludwig van Beethoven, the Divertimento in G Major by Nikolaus Kraft, and the Piano Trio in C Major by Johannes Brahms.
The violin was played by Czech violinist Jiří Němeček, while German pianist Michael Schneidt, Professor at the Munich Academy of Music, played the piano, Caleb Sagado from Las Vegas (U.S.) the double bass, and host Albert Roman the cello parts.
Concert with Hopkinson Smith (lute)
Chesa da Cultura, September 22nd, 2009
World-famous lutenist Hopkinson Smith presented his programme, Celestial Musings and Diabolical Delights, with works by J. S. Bach, V. Gaultier, Gaspar Sanz, and S. L. Weiss. The hall was filled to capacity and Smith played to enthusiastic acclaim by the audience.
Concert in Honour of Marguerite Staehelin
Theater Basel on 29 April 2002, Conductor: Pierre Boulez
A co-operation of the Pro Musica e Cultura Foundation and the Basel Theatre
A performance of works by Pierre Boulez, Elliott Carter, Arthur Honegger, Rudolf Kelterborn, and Jacques Wildberger
Marguerite Staehelin (1906-2000), born in Basel, Switzerland, comes from a long-established Basel family. She spent a happy youth in her hometown. Her thoroughly independent nature showed early on however. Instead of a year spent in a household in the Romandie to learn French, like many daughters from a good home at that time, she joined the Jaques Dalcroze Institute of Rhythmics, where a new body language was developed through music and dance. After World War II, Marguerite Staehelin moved to New York and founded the Swiss Music Library – a library of contemporary works by Swiss composers: "[…] I wanted to show Americans that Switzerland produces not only chocolate and watches, but also has a rich musical life […]." She gave concerts with works by Swiss composers, supported young performers and persevered in promoting Swiss music in the United States. Among her friends were musicians such as Arthur Honegger, Heinz Holliger, Klaus Huber, Rudolf Kelterborn, Robert Suter, Jacques Wildberger, Elliott Carter, and Pierre Boulez, to name but a few. Great jazz musician Lionel Hampton also was a friend. The summer months were however spent in Switzerland. From her summer residence in Vitznau, she attended Lucerne Festival and, in Basel, the contemporary music scene. Ever since her studies, she had moreover been close friends with Paul Sacher.
Marguerite Staehelin was a modern woman, a true child of the 20th century. She witnessed the many epoch-making changes of modern times and contributed to the development of music with a view to the future. At a time when concertgoers still tended to leave the hall before a contemporary piece was performed, Marguerite Staehelin set an example by only entering the hall in her striking pink coat when contemporary works were about to be performed. Up to a ripe old age, Marguerite Staehelin often got quite enthusiastic about new projects. Thus, she has supported the Pro Musica e Cultura Foundation against all opposition and actively supported the realization of Chesa da Cultura, the artists' house built by Albert Roman on Lake St. Moritz.
CD Recording, Tritton Cello Ensemble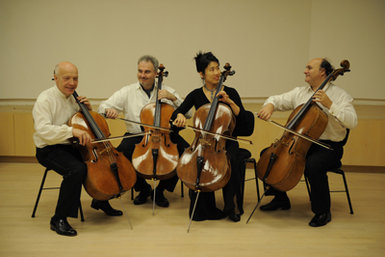 Chesa da Cultura, November 20th – 26th, 2008
The four cellists of the Tritton Cello Ensemble – a cello quartet with Josep Bassal (Spain), Bongshin Ko (United States), Wolfgang Lehner (Germany), and Albert Roman (Switzerland) – recorded a CD at Chesa da Cultura featuring original works from three centuries by Corrette, Fitzenhagen, Grützmacher, Goltermann, Labocetta, Matz, Morera, Paque Pahissa, Huguet y Taguell, and Wagenseil. Three wonderfully crafted instruments made by Antonio Stradivari as well as an Italian cello made by Alessandro Gagliano can be heard on this CD.
Swiss China Cello Orchestra (SCCO)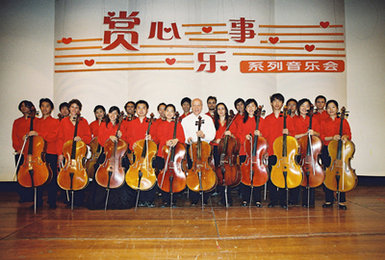 July 15th – August 14th, 2006
Two successful tours by the First China Cello Orchestra in the summers of 1999 and 2001 led to the creation of the Swiss China Cello Orchestra composed of 20 young cellists from Chinese, Swiss, and other European music academies. Under the direction of conductor and founder Albert Roman, the SCCO rehearsed and prepared an ambitious programme at Chesa da Cultura, which they thereupon also performed at ten concerts throughout Switzerland, Italy, and China and recorded on CD at the Chesa da Cultura recording studio. To establish a cultural bridge between European and Asian culture, one work each by a Swiss composer (Alfred Knüsel) and a Chinese one (Tan Dun) was premiered alongside well-known works for cello orchestra. The CD includes the following compositions: Nikolai A. Rimsky-Korsakov, Sheherazade (Op. 35); Alfred Knüsel, Drei Analogien; G. Fauré, Elégie (Op. 24); G. Bizet, Carmen; Tan Dun, Secret Land; and Modest Mussorgsky, Pictures at an Exhibition.
Water-Sound-Images Seminar with Alexander Lauterwasser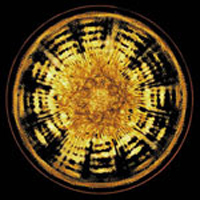 Chesa da Cultura, August 20th, 2005
"The world is permeated with sounds and vibrations. Our own bodies pulsate and vibrate […]." In an all-day seminar, Alexander Lauterwasser presented his specially developed method to make sounds visible in water: his so-called WATER-SOUND-IMAGES. Vessels of various shapes were filled with water and made to vibrate through music. An impressive display showed how sensitively water responded to the flow of sounds with wave structures and conjured up an abundance of shapes and images. The light reflections of the water were projected onto a screen and made visible as an audio-visual whole. The seminar held at the music hall of Chesa da Cultura met with great interest.
Art Exhibition of Painter Jürgen Möbius
Chesa da Cultura, February 6th – March 6th, 2005
The vernissage took place on May 2nd, 2005, with the artist present. Jürgen Möbius ranks among those artists who have remained faithful to the possibilities of the context in which they create. He has steadfastly defied the bias against painting that has developed in recent years and decades as the result of a cyclical misperception. His work is persuasive without pandering to fashion. Möbius reveals the calm of his creative work through the transparent and sensitive use of material and form. Time and again, he addresses ideas and motifs in a kind of spiralling loop, only to once again bring them to life on a higher level as an audio-visual creation. The works of the Quiet Zone/Insights exhibition illustrate the artist's creative process by which he continually scrutinizes the same visual motif, whether incorporating it into new contexts or investigating it as a sign by itself with minimal changes. Möbius still sees works of art as the expression of a status quo within an artistic evolution: a never-ending examination of solutions.
Throughout the entire installation of the exhibition, Möbius lived at Chesa da Cultura and, therefore, was able to give viewers a personal introduction to his oeuvre.
Project Days for Landscape Architecture with Johannes Matthiessen
July 1st – 7th, 2002
Landscape architect, painter, and art teacher Johannes Matthiessen worked with 15 participants from Switzerland, Germany, Austria, Croatia, the United States, and Australia to design a stone garden according to a Japanese model in the grounds of Chesa da Cultura. They created two round granite-cobblestone squares connected by a fine gravel path. Large granite rocks were distributed all over the squares to serve as seats. These stone benches, selected from various sites in the surroundings, were transported by helicopter to their designated place and are heated by the sun. One of the squares has a concave, the other a convex surface, thus expressing the Asian concept of yin and yang. A selection of newly planted larches and Swiss stone pines rounds off the picture of this naturally grown garden at Chesa da Cultura on Lake St. Moritz.
First China Cello Orchestra 2001 (FCCO)
July 19th –August 18th, 2001
Following the great success of their concert tour in 1999, the First China Cello Orchestra, led by Albert Roman, once again gathered at Chesa da Cultura to prepare for its second concert tour in Switzerland and China. At the end of the two-week rehearsal period, the 20 cellists (aged 13 to 21) recorded their second CD at the Chesa da Cultura music hall. The FCCO then performed with Albert Roman in Sils (Engadine), Scuol/Schuls, Lucerne, and Basel and in the major cities of the People's Republic of China. Everywhere these young artists went, the audiences enthusiastically applauded. Most of the pieces were arranged by Albert Roman for the FCCO: Thanks to its range and characteristic tonal colours, the cello is indeed highly suitable for arrangements of large choral and orchestral works.
Firs China Cello Orchestra 1999 (FCCO)
July 23rd  – August 8th, 1999
At the end of the annual workshops Albert Roman held at the leading music academies in China, he invited his students to join together for an optional event of music making. The richness of the music ensemble solely comprised of celli proved especially inspiring for these young cellists. This ad hoc music making gave rise to the idea of founding a cello orchestra drawing from the most talented music students in China: the FIRST CHINA CELLO ORCHESTRA.
In co-operation with cello teachers of the respective music academies, 20 participants were selected on the basis of an audition. The FIRST CHINA CELLO ORCHESTRA represented a cultural novelty. At Chesa da Cultura, they rehearsed and recorded a CD – and then went on tour throughout Switzerland and the People's Republic of China. These emerging young talents from China got to know both Switzerland and its culture and their own fellow citizens from distant provinces in China, with whose language and customs they often came into contact for the first time. The cultural bridge thus created also fostered a better understanding among themselves. The concerts took place in Scuol/Schuls, St. Moritz, Interlaken, Lucerne, and Basel, as well as in the Chinese cities of Hangzhou, Shanghai, Tianjin, and Beijing. The programmes featured works by I. Alberti, J. S. Bach, L. Bernstein, A. Bruckner, D. Funck, G. E. Goltermann, J. Klengel, A. Krein, S. Rachmaninov, and F. Schubert.